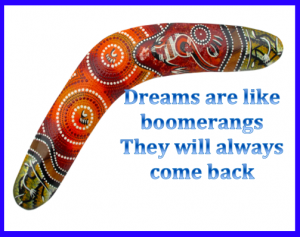 Dreams are Like Boomerangs,
They Will Always Come Back
When we dream, a thought form is created from our deep imagination couched within our soul. The dream is formulated and embedded with thoughts, feelings, desires and potential outcome. In fact every thought we have that is filled with emotion becomes a dream. Sometime colourful and exciting,  filled with optimism and sometimes filled with dreary, dread. Our subconscious does not discriminate from good or bad, it creates whatever consumes your mind the most.
When you allow your mind to be driven by untamed thought and emotions these will eventually create a dream state full of power that sends forth the message  out to the universe through time and space before coming back to you like a well thrown boomerang. Each consuming thought is like throwing another boomerang out into the ether. Some are thrown far and wide others come back quicker, landing back with a sudden thud back into your current reality.
When you dream, there is a latent power in you that can imagine the amazing and impossible and suddenly all you have thought, indeed becomes possible. People all over the world keep fulfilling their dreams and passions by staying in a state of openness and receptivity. They dare to take action in ways others fear. Many of those people understand that Living their PASSION, where their heart resonates and communicates with the Spirit energy is the true path of powerful manifestation. This is so true. This state of mind or Beingness is not just for the famous or fortunate few. This capacity is within each and everyone of us. The only difference between the idea of success and optimism is some people throw well aimed boomerangs due to clear mind and intention and others throw many that run into each other and cancel the earlier ones out. This process of cancellation only occurs because the mind and imagination is cluttered and filled with deep seated subconscious programmes and patterns inherited from childhood and social influences.
To discover a place of peace, clear mind and untapped potential, a disciplined mind and steady emotional state should be pursued. Our thoughts become our reality. Our dreams always come back to us. Meditation, often called mindfulness is a practice that anyone can do to slowly create a space within oneself in order to discover the true nature of your thoughts, desires and intentions that arise. Hidden within this space is the wisdom of insight that can show you the true nature of  what we commonly call 'Self".
It is from this place you come to  understand that physical manifestation of events, opportunities and desires all first began somewhere deep within the individualised psyche. It is your responsibility how well you learn to throw your thoughts and feelings out to the Universe. It is your responsibility on what comes back.
So I ask you this  question….
What kind of boomerang would you like to throw?