Female Intimacy – Masterclass For Men
As 'Below' with some integral changes to the design and flow of information to suit the male mind and ability to absorb the interesting and highly informative nature of this Masterclass based on Celia's book 'The Secret Out! Men and Sex, Why Women Say No'
As a Workshop
Healthy discussion is encouraged along with questions and answer opportunities.          Men supporting men by speaking their concerns.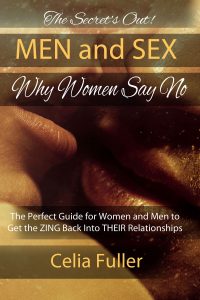 Speaking the Unspoken – Relationship Rhythms
Getting the Bounce Back in Work, Play and the Bedroom
Your corporate events will be turned on their heads with this inspiring presentation with a saucy difference. Audiences never stop talking about it and companies are forced to rethink work place ideology behind success benchmarks, throwing the figures out and putting humans back into the equation.
Celia is a powerhouse of knowledge drawing on over 20 years experience as a Health and Well Being Coach, Natural Therapist and Alternative Counselor. Intimate secrets are shared unlocking the keys to success in life and love. This awesome talk leaves no stone unturned and is taken straight from the pages of Celia's book. The Secrets Out! Men and Sex, Why Women Say No.
Your audience will regale with laughter at this serious, yet amusing version of men and women and what makes them tick. Female audiences will gain massive insight into their own behaviour and provide answers, that seem to have eluded them for years. They will be relieved to discover they are not alone with their anxiety around lagging libido and intimacy in relationships. Knowing they share the journey with 90 % of female friends and colleagues will have them bouncing with glee ready to face their world with renewed confidence. Get Celia to talk with your ladies and watch how their energy and focus increase in the workplace and they start breaking through that glass ceiling. Heck, you may even notice your men taking essential tips guaranteeing them more action at the home and a spring in their step. Your employees and colleagues will love you for gifting them this opportunity. Juggling family life with a career has just become that much easier. Book this now, you will never regret it.
This dynamic programme will have your audience redefining what success means to them and giving them the permission slip to be the best version of themselves.