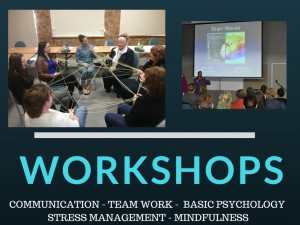 WORKSHOPS
Workshop 1 
4 Principles to Wellness
A powerful and insightful journey into how our minds work and why we react the way we do. Discover how thoughts and events influence the subconscious mind which then translates in day to day choices, actions and reactions. Reclaim your power, take ownership of your life, overcome negative spiraling thinking and be a happier healthier you.
Involves interactive sessions to make you think more about yourself and how you interact with others.
Workshop 2 
Brain Neural Reprogramming through Dynamic Mindfulness
Discover how you can transform your thinking, feeling, reactive behaviors and health via this form of meditation. Experience meditation in its simplest, most powerful, and accessible form.
Practical: Breath Work Concentration.
Workshop 3
Know Yourself through Writing and Self Publish
Learn how writing and self-publishing allows you to explore your memories, create amazing internal psychological healing and develops a new awareness and appreciation for yourself. A bonus product of this process is personal empowerment, with a physical legacy for you to share with loved ones and future generations.
Practical: Memory & Personal History Recording