My husband and I are known as Mamma & Uncle to our extended world family. We have great joy giving others a helping hand up in life.
We throw our efforts into assisting people that we meet on our travels. We feel happy knowing we can contribute directly with them, without a third person / company standing between us and the recipients. This way we know exactly where our money is going. The personal growth and accelerated learning we gain by interacting with those families of different cultures far exceeds the gain they receive from our gifting of financial resources.
We currently support families in India and Bali. We offer productive support that assists families to gain essential life skills, in order to uplift their living experience, instil an optimistic  forward vision and create mini entrepreneurs in a similar way to micro loans. Providing sewing machines or business creation, education support for greater opportunities and medical expenses when life goes terribly wrong are some of the support we give.
The greatest support and interaction we can give is our time to listen, and I mean, really listen to their stories with open acceptance and respect.
NEW PROJECT For 2017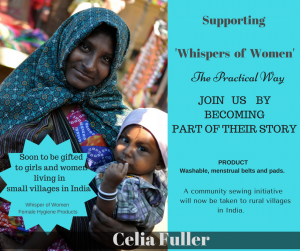 UPDATE:
For International Womens Day 2017 we travelled to India and presented menstrual belt design created for the sewing project. The girls seemed very interested yet shy but understood what I was presenting to them. We discovered that in the Sujata village their poverty was not as desperate as other areas as they did have access to disposable pads whereas the bride of our Indian son comes from a very remote village and has no access to such comforts. She is trained in sewing and will be taking the design to her home and sharing with the new sewing training centre we have partnered with in the village of Dedma. There a re a whole range of Charitable sports we have helped to create awareness around and a website has been created to highlight how people can help.
www.openhandseducation.org